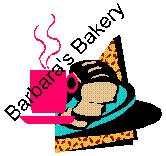 Welcome to the Barbara's Bakery Home Page!
We're new to the World Wide web, but we want
everyone to know about our fresh and wholesome goodies!






In fact, this month we're featuring mouth-watering chocolate chip cookies!

---
Think about it ... don't you need delicious,
home-made chocolate chip cookies? We think so !!!
---
And if you'd like to purchase the recipe for this
baked wonder-of-the-world, click

here
---
Any questions about our fabulous baked goods? contact me at Barbara@barbsbakery.com and I'll be sure to get back to you ASAP!