Welcome to the Star Dot Star Computer Consultants Web page.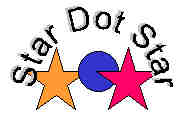 Using a computer is not always as easy as the experts make it look!!! That's why we've designed our super-cool consulting firm: to help you use your computer more efficiently! Using a computer should be fun -- and we can make that happen!
---
We offer the following services:
Training programs:

We offer both individual and group training programs. In applications and effective web surfing techniques.

LAN and Network:

We offer LAN and Networking design, development and implementation.
Some of our clients include:
Hewlett Packard
Cisco Systems
City and County of San Francisco
Additional Information
Want more information about computers? Check out Microsoft's Home Page. Also, take a look at Course Technology's Home Page!